I Magnoni estate since 2003.
The enthusiasm of Barend for the beautiful wines of this region, The Marche, has resulted in the start of wijn-reis.nl.
Through these wine trips, you will (re)discover the beautiful wines of Italy.
With winWijn-reis.nl (wine-trip.nl) is organized by Barend and Annelies van Gilst, the owners of the I e it's all about the experience. Barend and Annelies will therefore do everything in their capacity to give you a wonderful and delicious wine experience.
May you have any questions about this wine trip, or want one catered to your wishes, don't hesitate to contact us.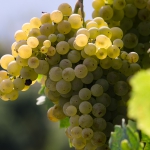 Italy is the world's biggest wine producing country. Every region has its own wines. Delicious table wines, but also fantastic high praised wines.
Besides the 20 well known grape varieties, for example; the Pinot Grigio, the Cabernet Sauvignon and the Sagniovese, it is greatly encouraged in Italy to produce wine from one of the approximately 240 less known grape kinds. Some examples from the Marche region are the Verdicchio, the Pecorino and the Bianchello.
That makes a wine trip to Italy so fun and interesting, it offers the opportunity to get acquainted with amazing wines made from these grape varieties.
What do we offer ?
• Ofcourse the wine trip, as described on the site.
But also:
• A wine trip custom made for you
• A wine trip for large groups
• A wine trip for a weekend
• A wine trip for a longer period
When?
As of this moment you can individually register for four different weekends.
If you want to come with a group of your own then it is possible, after consulting with us, to plan on different dates, for example during the week.
The dates for planned wine weekends in 2018 are:
April 20 to 23
May 11 to 14
September 21 to 24
October 12 to 15
For more information or a reservation, mail us at : info@wijn-reis.nl
Impressie